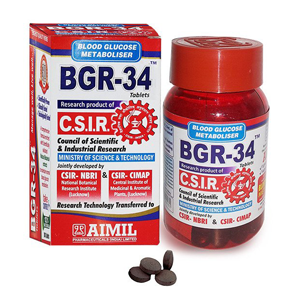 The world's most populous country, i.e. our motherland India has the world's 3rd largest diabetic population. In such an alarming situation, it is all but natural that there will be a shift from modern medicine to traditional ayurveda. The result? Ayurvedic medicine for diabetes are becoming more popular, and for good reason. No side effects and a mechanism that targets the root cause of the disease are the main driving factors behind this success of ayurvedic diabetes medicine. One such herbal remedy is Aimil Pharmaceuticals' BGR-34.
What is Aimil BGR-34?
Abbreviated from Blood Glucose Regulator, BGR-34 contains 34 active constituents that are found in plants and is very efficient at treating diabetes type-2.. Six medicinal plants, namely Daruharidra, Vijaysar, Giloy, Majeeth, Methi and Gudmar are used in its preparation.
How does BGR-34 work?
Diabetes Mellitus is of three types - Type 1, Type 2 and Gestational diabetes. Type 1 diabetes is due to inability of pancreas to produce enough insulin, whereas Type 2 occurs when body develops a resistance to insulin. The third one is prevalent in pregnant women. So, medicine for diabetes type 2 is of three kinds:
 Potential DPP-4 inhibitor with cardio protective action.

Increase insulin secretion

Enhance sensitivity towards insulin

Slow down absorption of glucose
Developed by CSIR, BGR-34 belongs to the second type. It increases sensitivity to insulin and helps the body to better absorb glucose.
Why choose BGR-34?
BGR-34 has the following exclusive benefits over its competitors: 
DPP-4 or Dipeptidyl peptidase-4 inhibitors increase incretin levels. This results in a reduction in glucagon release, and consequently the blood glucose levels. It also performs cardio-protective action.

D

eveloped by scientists at CSIR, BGR-34's formulation is not only scientifically proven, but chemically optimised as well.

It maintains the ideal insulin-glucagon balance in the blood stream a.k.a regulates glucose homeostasis.

It converts pro-insulin to insulin & further has anti-oxidant action.

Patients suffering from diabetes have higher amounts of glycated hemoglobin, putting them at risk of heart diseases, neuropathy, nephropathy and retinopathy. 
The Clinical Trials
Clinical trials saw 48 people being put under the scanner. Half the people were fed BGR-34 while the other half were given placebos instead. The end of the clinical study saw promising results. Improved hyperglycemic control had patients feeling much better. Delay in glucose absorption, inhibition of advanced glycation end products (AGEs), accumulation and enhancement of insulin release and proinsulin-to-insulin conversion are the reasons pegged for the success of BGR-34.
---