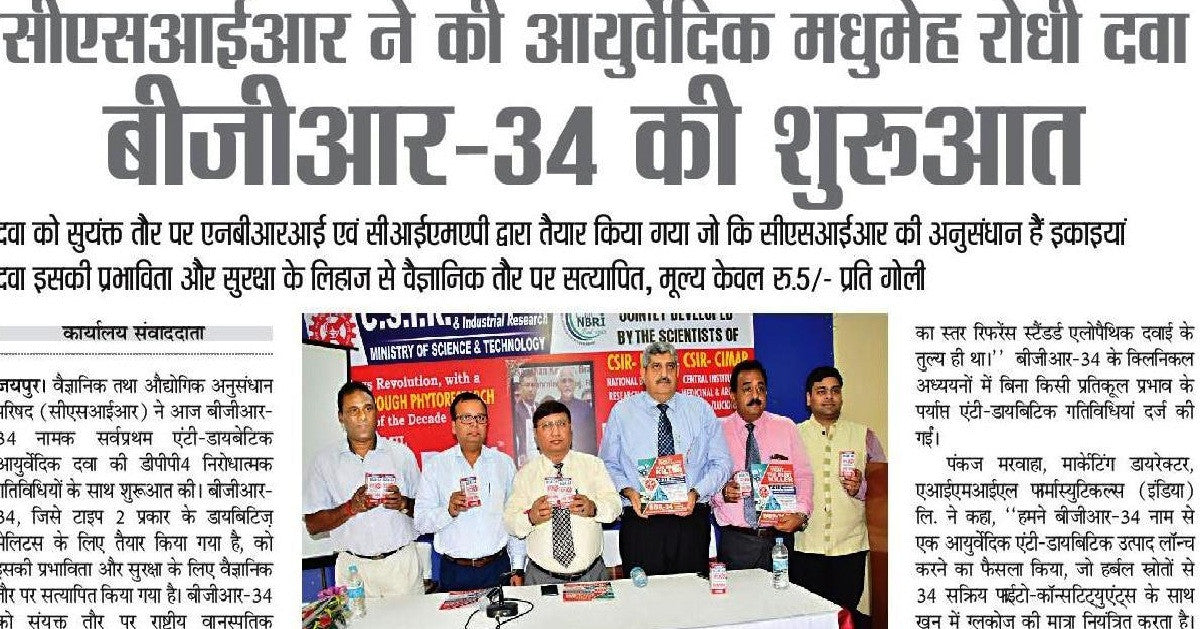 BGR-34, designed for type 2 Diabetes mellitus has been scientifically validated for its efficacy and safety. BGR-34 is developed jointly by National Botanical Research Institute (NBRI) and Central Institute for Medicinal and Aromatic Plants (CIMAP), the research units of CSIR, Govt. of India situated at Lucknow.
Passing its larger benefits to people, BGR-34 has been economically priced at Rs. five per tablet as compared to latest DPP4 inhibitors globally. BGR-34 is now available on all major chemist counter of Rajasthan.
"Six crore of the adult Indian population has been found to be diabetic and there is no effective solution for diabetes as yet. We are sure that eminent medical professionals will recommend it to their patients suffering from type II Diabetes mellitus for quicker and consistent response. CSIR's premier research institutions have developed and established the efficacy of BGR-34.
The modern diabetes drugs are known for side-effects and toxicity while BGR-34 works by controlling blood sugar and limiting the harmful effects of other drugs," said Sr. Principal Scientist of CSIR-NBRI, Dr. A.K.S. Rawat.
The scientists of NBRI and CIMAP, joined hands in developing an effective, safe, patient friendly solution towards management of type II Diabetes mellitus. They had in-depth study of over 500 renowned ancient herbs and finally identified the six best herbs listed in Ayurvedic ancient texts for various ailments and indications namely Daruharidra (Berberis aristata), Giloy (Tinospora cordifolia), Vijaysar (Pterocarpus marsupium), Gudmar (Gymnema Sylvestre), Majeeth (Rubia cordifoila) and Methika (Trigonella foenum-graecum) to be combined in different fractions and quantity and processed meticulously to develop a marvelous anti-diabetic formulation.
For the purpose of quality commercial production and extended distribution, Aimil Pharmaceuticals (India) Ltd, the organization well known for its innovative, quality Herbal / Ayurvedic products, has been transferred the rights and technical knowhow to produce and market it for medical use.
The company is manufacturing BGR-34 at its state of the art manufacturing units, which are well equipped with latest technology for manufacturing quality medicines with astringent most quality control measures.
Dr Anil Kumar Sharma Vice President (Technical) of AIMIL Pharmaceuticals (India) Ltd, said, "BGR-34 is a unique product that manages the lives of human suffering diabetics. One of the critical ingredients inhibits DPP-4 and enhances insulin secretion. The product passed several battery of tests and showed hypoglycaemic activity in experimental subjects."
Aimil Pharmaceuticals already had one successful technological collaboration with DRDO (Defence Research and Development Organization, Govt. of India) yet another premier research institute in the country, for effective and safe treatment of leucoderma, still considered to be a big challenge to address.
The product for leucoderma was successfully launched in the market in the name Lukoskin, bringing smiles for the patient suffering from the social stigma, leucoderma.
In appreciation to its research work and commitment to develop high quality innovative drugs, Aimil Pharmaceuticals has been bestowed with three national awards from Govt. of India for manufacturing herbal medicines of outstanding quality and also for research and development activities.
Within a span of eight months of formal launch of BGR-34 from CSIR-NBRI on CSIR day, the company has produced and made available about 15 crore of tablets in the services of masses through a team of about 1000 medical representatives serving the eminent doctors in society. (ANI-BusinessWireIndia).

---