The information given on the website are based on the Ayurvedic texts & modern research about the product, viewers must seek physician's advice before taking the product & not to go for self-medication.
Boniheal Suspension (Pack of 3)
Click On Higher Packs To Avail More Discounts
Product Details
QUANTITY: 200ML
DOSAGE: Adults: 2 teaspoonfuls 3 times a day
Children (3-6 years) : 1/2 teaspoonful 2 times a day
Children (7-12 years) : 1 teaspoonful 2 times a day
Provides Natural Calcium, Probone Minerals, and photo components For Complete Bone Health
Boniheal is a complete phyto-mineral bone therapy for fractured bones, osteoporotic bones, delayed bone growth, and bone mineral deficiency. Boniheal suspension provides a superior bone health anti-oxidant that stimulates osteoblasts, the bone-building cells. It amazingly neutralizes free radicals, protects bones & ultimately increases bone density.
Boniheal suspension has been developed on the scientific basis of the very latest research to include calcium, magnesium, vitamin D, Zinc supporting botanical extracts which contribute to the maintenance of normal bone health. This special combination contains a rich source of calcium from natural sources in 4 active forms, Vitamin D is naturally derived from olive, which helps in the absorption of calcium. Magnesium derived from Jahar mohra is needed for calcium absorption & helps in bone formation. Zinc obtained from Yashad is important for calcium uptake & immune function. Asthishrinkhla an ancient herb has been used since ages for its promising bone-healing properties, especially in cases of fractures.
Reduces bone loss and increases the bone strength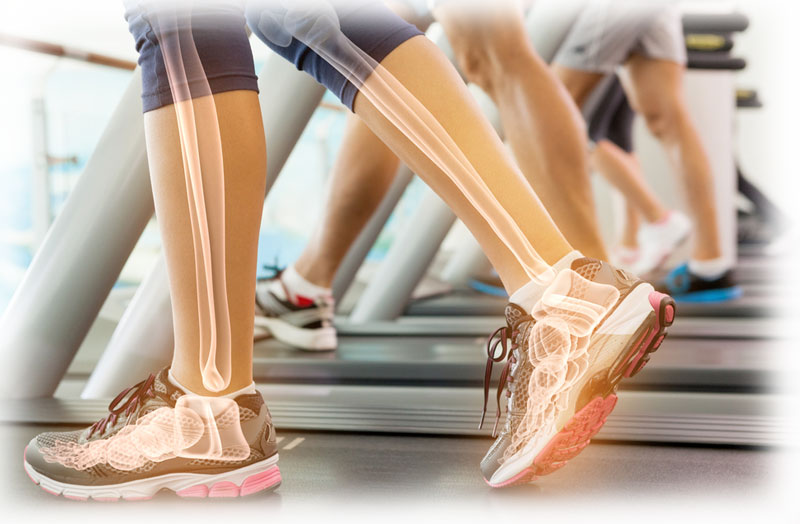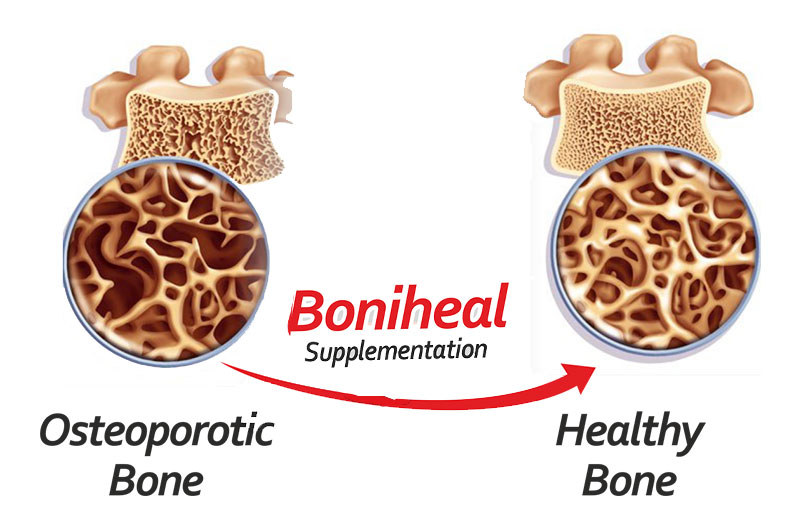 FASTENS FRACTURE HEALING NATURALLY...
Fastern fracture healing, Boniheal increases rate of fracture healing by influencing the regenration of connective tissue of mesenchymal origin viz.
- Chondroblasts, Fibroblast & Osteoblast.
Promotes calcification of bones, Improves calcium deposition in bone matrix to insure stability & strength of the bone. It effectively reduces the bone loss. Boniheal plays an improtant role in correcting deficiency imbalance. Supplements calcium in bio-available form
Increases Osteoblastic activity, by exerting anabolic effect on osteoblast precursors like Runx-2 and reducing osteoclastic activity thereby, facilitating bone formation.
SUPPLEMENTS ESSENTIAL PRO BONE MINERALS
Provides calcium & Pro-bone minerals, Supplements calcium, Magnesium, Boron, Vitamin K, Zinc, Copper, Silica and also Omega 3,6 for maintenance of skeletal integrity and bone health, helps attain peak bone mass.
Improves bone mineral density (BMD), Boniheal suspension has been scientifically developed on the basis of the very latest research to include calcium,Vit. D, Magnesium, Zinc & Vital botanical extracts which contributes to the maintenance of normal bone health.
Reduces Pre & Post menopausal bone loss, Supplements phytoestrogens, exerting estrogen like effects in bone which reduce loss and increase bone strength thereby, prevent deteriorative changes in bones.